Meet Dr. Helen McWeeny
I'm in awe of the amazing healing power of the body that I get to witness in our patients."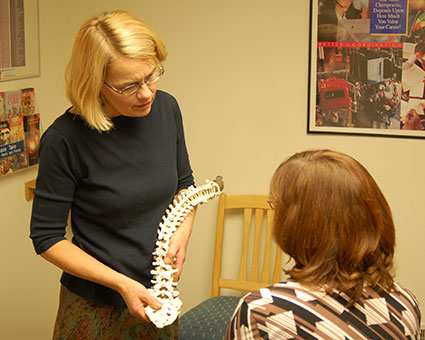 I was a certified cytologist, working in the pathology lab of my local hospital when I became interested in learning more about alternative healthcare. I'd been reading and taking workshops while I worked full time. Then, while talking to my chiropractor, I asked what he thought about me going to massage school. He said, "I think you should become a chiropractor. I think you'd be a great one." That idea took root. Every time I spoke with him, he told me how if you cleared the interference in the spine, the innate intelligence of the body will heal the body. He was truly in love with chiropractic and how it helped people.
A Chiropractic Education
Dr. Gene encouraged me to go to Sherman College of Chiropractic. Its strong philosophy of correcting nerve interference caused by vertebral subluxation attracted me. One of the instructors who also had a busy private practice, Dr. Pam Kennedy, was a particular inspiration to me. Over the years, as I've been busy in practice myself, I've thought about what a love she had for teaching and how it inspired me to learn.
Rather than just treat symptoms, I wanted to learn how to help the body to heal itself.
It's a joy to to help someone understand how their body works and to show them ways improving their health through chiropractic. It's a particular honor when a parent allows me to check their child and give them the opportunity to enjoy better, interference-free, health.
On a Personal Note
I get adjusted regularly once a month. I'm an avid fan of yoga – it's my favorite and best workout and I go several times a week. I also like to walk, bike and swim whenever I can. I grew up on a farm in Iowa and we raised much of our own food. To this day, I love whole and healthy foods and eat a diet rich in fruits and vegetables. Because our body is healthiest when it can heal itself, I rarely used aspirin or other non-prescription medicines. However, when needed we have no problem with prescription medication.
I like to get back to visit my family in Iowa. My sisters and I are still crazy about each other and I love to visit, garden and shop in odd shops with them, so I get back to Iowa or Omaha to see them whenever I can. I also take a lot of pleasure in being a health coach and working with and seeing people change their lives.
Contact Us Today
Thank you for visiting our site. I look forward to meeting you and discussing your health concerns and questions. Give our Flemington chiropractic office a call and find out if we can help.

Dr. Helen McWeeny | (908) 788-5050