Your First Visit to
Family Chiropractic Center
We'll Warmly Welcome You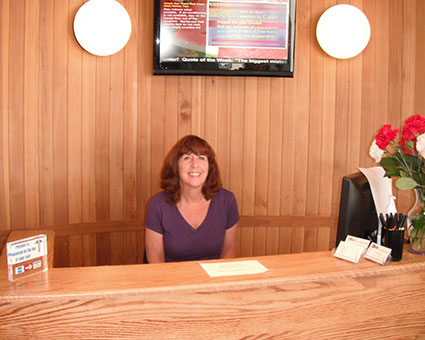 One of the things our patients comment the most on is how friendly our office is. On your first visit you'll be promptly and warmly welcomed. They'll explain what information we need to gather from you and answer any questions you may have. If you've brought test information or x-rays, they will bring them to the doctor to review before you see them. They can also check on your insurance for you. Then, they will introduce you to your doctor.
We'll Get to Know You
The doctor will take time to discuss your problem, pain or any concerns you might have. Then, they will examine you. You will remain clothed, so we ask that you wear light, loose fitting clothing if possible. The examination consists of a series of tests to determine what problems are being caused by your spine. The doctor will also gently palpate, or feel, your spine to determine what vertebrae may be misaligned and causing your problems. Then, we'll most likely take x-rays to gather more information about your back.
We'll Go Over Your Options
Depending on your condition, you may or may not be adjusted on your first visit. We know that our patients often come to us for relief – so that is our first priority. If you're not adjusted your first visit, you will receive instructions to begin giving you relief right away and to help your first adjustment be more effective.
You can expect to spend about an hour at our office during your first visit. Take a look to see what you can expect during your second chiropractic visit.
The sooner you take action, the sooner we may be able to help you. Contact our Flemington chiropractic office and get started today!
CONTACT US »

First Visit to Family Chiropractic Center | (908) 788-5050