Meet Dr. John Dowling
From my very first adjustment I knew something was different."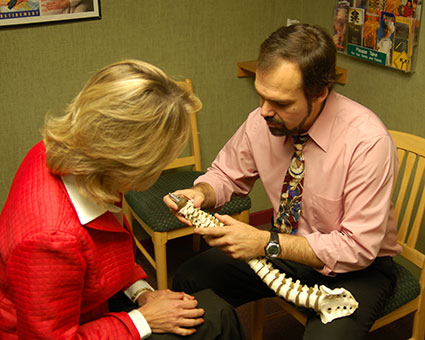 When I was 12, I began to suffer severe headaches and debilitating neck pain. I would wake up with excruciating pain, my head twisted to my shoulder and I wouldn't be able to move it. This happened several times a year and would take up to a week to get better. In between, I would get headaches so severe I couldn't get out of bed. I would spend the day in paralyzing pain, in a darkened room, using a heating pad for comfort. No doctor my parents took me to could help me.
When I was 19, a friend of mine implored me to see her chiropractor, Dr. J.J. Kromka. Even though one of Dad's childhood friends had become a chiropractor, our family had never really considered it as an option for my problems. On my very first adjustment, I knew that something was different. I could feel an immediate change in what I was experiencing. It was an almost miraculous experience.
For the next three years, while a computer science student, I was under regular chiropractic care. One day, Dr. Claude Lessard, my chiropractor near college, said to me, "How have you been doing?" And, without really thinking, I said, "You know, it's a funny thing. I've had very bad asthma and allergies all my life. I usually get bronchitis several times a year and have to be on medications. For the last year, I haven't had any of that!" And Dr. Claude said to me, "Well John, I told you that your nervous system controls your entire body and, when you removed the interference to it, you will get healthier!" To which I replied, "Oh! I thought you meant my headaches were going to get better!
The coolest thing I had ever experienced was getting healthier because I was getting my spinal problems corrected. This planted the seed to wanting to become a chiropractor.
I applied to and was accepted at Sherman College of Chiropractic, it was considered the foremost school of straight chiropractic philosophy in the country. At Sherman they taught that knowing your philosophy of practice was the single most important value one had to determine. From that, everything else followed. In addition to learning how to help people heal physically, I also discovered my love for teaching after being chosen to assist, for two years, in the running classes in the anatomy labs.
We Are a Chiropractic Family
I get adjusted once to twice a month regularly by Dr. Helen, of course! As a family, we prefer homeopathic and herbal approaches as our first line of defense for illness and injury. We find that they are very effective and often the body heals more quickly without the side effects of many over-the-counter medications.
Dr. Helen and I met at Chiropractic School. We've been married for many years and we raised our daughter Sarah here in Hunterdon County. We enjoyed being field hockey parents while she was at Hunterdon Central (Class of 2007) and we're members of the Society for Creative Anachronism, a medieval re-enactment society that strives to recreate the activities of the Middle Ages. (I can be see in armor on the field: Quartered Argent and Azure, a Lions Head Erased Or, On an Embattled Chief Sable, Three Increscents Argent. Just don't call me John, I'm Aodhan O'Dunlaing, squire to Duke Gaufred Kelson von Heidelberg!) In addition to medieval fighting, I run several times a week. Nothing has given me greater joy than being able to participate in 5K and 10K races alongside my daughter.
EXPLORE CHIROPRACTIC »
Staying In Top Shape
I'm also Certified Take Shape for Life Health Coach. After struggling with my weight for over 30 years, I lost 70 lbs. Due the great success I experienced, I've incorporated the same program into the practice, helping literally hundreds of people permanently lose weight also. Take Shape for Life is a program which helps people permanently lose weight, get off prescription medications and create optimal health in their lives. I also train people to become health coaches, as well as help health care providers, gyms and corporations implement the program for their patients, members and employees.
Get Started Today
Thanks for visiting. First and foremost our patients note the amount of time we take to get to know you and what your health concerns are during your first visit. I'm looking forward to meeting you in person and learning how we may be of service to you.
Give our Flemington chiropractic office a call, or email me and I will be happy to discuss your specific health challenge.

Dr. John Dowling | (908) 788-5050